Top 5 traditional Dalmatian desserts
Get ready to learn all about the finger-licking delicacies from Croatian coast!
Croats are known for enjoying drinking coffee, knowing how to have a good time and being great bakers! Not only is there an abundance of traditional sweets you have to try once you visit Croatia, but each region (sometimes even each village) has its own twist on how to make a dessert that will leave you wanting more.
Take a look at the top 5 traditional desserts from Dalmatia!
Mandulat
Mandulat is one of the most loved Dalmatian desserts. It's pretty easy to make and you can use the ingredients you probably already have in the kitchen — almonds, sugar, eggwhites and wafers! Some claim that mandulat originated in Italy, but there are some differences between a traditional mandulat and the Italian version, torrone, which is made with rice paper (not wafers) and typically contains pistachios. You can buy this sweet delicacy in souvenir shops and markets along the Dalmatian coast.
Fritule
Fritule is a traditional delicacy similar to a doughnut in taste and shape, only much smaller. It's popular in Istria, Kvarner and Dalmatia, but for the past couple of years it took over Croatia's capital, too. As they're usually made during Christmas, fritule became one of the most recognizable symbols of Christmastime in Croatia, and you can find them at almost every stand at the Zagreb Christmas market. You can choose regular ones or those filled with raisins, and you can have them covered with sugar, chocolate or vanilla. Whichever you choose, we're sure you'll be coming back for more.
Pinca
Unlike mandulat and fritule, which are made for Christmas, pinca is inevitable on the Croatian Easter table. For years, not only has pinca been one of the symbols of Easter, but also of pride — Dalmatian housewives used to compete in making the best pinca in town! It was traditionally made on Holy Saturday, baked on Easter morning and given to guests as a token of good luck. Although pinca is a type of bread, it has so many ingredients that you can easily call it a cake. Its distinctive flavour is achieved by adding raisins, rum, vanilla sugar, mixed candied fruits and orange or lemon zest. Here's a tip: eat it warm, when it's the softest, juiciest and most fragrant.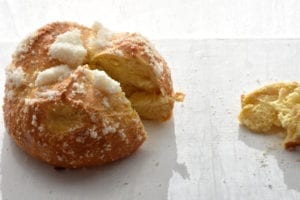 Smokvenjak
Figs were among the most valued foods of the Dalmatian coast — in the olden days, you could trade a kilo of figs for up to six kilos of potatoes. There are numerous desserts you can make with figs, but the most popular one is also the simplest: one containing only dried figs and rakija (a type of fruit brandy). Other ingredients of smokvenjak can vary from village to village. For example, on the island of Cres people usually add raisins and on the island of Krk chopped walnuts.
Kroštule
As preparations for carnival season begin, the smell of fresh kroštule fills the air in towns and villages across Dalmatia. The recipe is passed down for generations and loved among all ages. This crispy treat is made from eggs, flour, sugar, orange or lemon zest and butter, then arranged in the desired shape before frying in hot oil — you can tie a knot, braid it or shape it into flowers or strips. For the finishing touch, sprinkle them with a bit of sugar!
Once you try these typical Croatian desserts, finish your day with a glass of wine and a view of the shimmering Adriatic sea. Take a look at our camps and choose where to start your gastronomic adventure!
Share