St Nicholas Fortress, the pearl of Šibenik
Discover the UNESCO protected heritage site located just off the coast of Šibenik.
Thanks to its many fascinating historical monuments and unique charm, Šibenik became one of the most popular tourist destinations on the Croatian coast. If you're visiting the gorgeous ancient and medieval spots in the city, definitely don't miss seeing the magnificent island fortress of St Nicholas!
On an island in the sun
This huge fortification system actually covers the entire territory of an islet called Ljuljevac, located at the entrance of St Anthony's Channel, a narrow waterway that leads to the city of Šibenik. The fact that it's quite literally an island fortress, as well as some unique design characteristics for a Venetian renaissance architecture, made this spectacular monument worthy of being included in UNESCO's World Heritage Site list in 2017. 
Frontline of defense
The fortress got named after a Benedictine monastery that once used to be part of the island but was demolished to build a defense system. It was built in the first half of the 16th century when this part of the Croatian coast was under the rule of the powerful Venetian Republic. 
History tells us that the locals were afraid of an upcoming attack of the ruthless armies of the Ottoman Empire, so they asked the Venetians to reinforce the defense of Šibenik. Since the city was one of the most important Adriatic ports at the time, the Venetians aided in building a brick fortress on this strategically perfect location on the islet of Ljuljevac.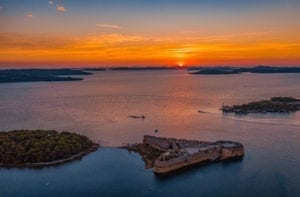 An intimidating beauty
The peculiar fortress was designed by the famous Venetian architect and builder Gian Girolamo San Micheli, and part of its appeal is the unusual triangular shape of the structure. Another curiosity is the fact that there are no towers, so everything is the same height and looks like a homogenous construction. 
If you come and visit, you will probably notice that the fortress is quite nicely preserved. Well, that is partly due to it actually never having been under attack! Although it was equipped with 32 ready-to-go cannons and always under military supervision, the sheer volume of the towering structure seemed to be enough to keep enemies at bay.
You might be eager to infiltrate Šibenik's impenetrable fortress, but remember — tourists can only visit on official boat tours, for which they can buy tickets on the main city promenade. Now that you know more about one of the many charms of this old Croatian city, you're all set to explore the wonderful region of Dalmatia!
Share